Little Bursts of Exercise, Big Rewards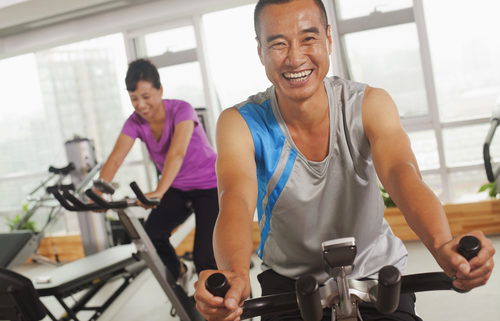 Two recent studies bring good news for those of us who either don't have a lot of time to exercise, or just don't like it and don't want to spend an hour working out: bursts of cardiovascular activity matter. A lot.
For those of us who are getting older (which, unless you're dead or cryopreserved, or both, is everybody), nothing is better at delaying aging than exercise, say Mayo Clinic investigators, who recently published a very interesting study in the journal, Cell Metabolism.  In other words, there is no magic bullet pill or thing you can eat that will do as much as exercise to keep you living longer and healthier.
Well, we kind of knew that. But the really good news here – especially for those of us who don't just have scads of time or willpower to spend at the gym – is that it doesn't have to be for a huge chunk of time every day.
The Mayo researchers didn't just look at the things we usually think of with exercise – weight loss, better endurance, muscle mass vs. fat, maybe improvements in mood or functioning. Instead, they looked at the effects of exercise in younger and older adults at the molecular level. Particularly, they were interested in the effects on the mitochondria – the battery packs that produce energy in our cells.
The study's volunteers – 36 men and 36 women in two age groups: young (18-30) and "older" (age 65-80) – were healthy but sedentary. They underwent tests to establish baseline levels for their aerobic fitness, blood sugar, and the gene activity and health of the mitochondria in their muscle cells. Then they were randomly assigned either to a control group (no exercise) or one of three different exercise programs: high-intensity interval biking (pedaling hard for four minutes, resting for three, and repeating three more times); vigorous strength training with weights; and a combined program of light weights and exercise bike-riding (at a moderate pace for 30 minutes, a few times a week).
After 12 weeks, all the participants had repeat lab tests. As you may expect, everybody who exercised had better fitness and blood sugar levels. The people who did weights gained more muscle mass, and the people who did interval training had better endurance.
But the really significant changes were invisible to the naked eye. In the under-30 people who did the interval training – the vigorous bike-riding for four minutes, four times – 274 genes showed increased activity; those who did the more moderate exercise had changes in 170 genes, and the weight-lifters had changes in 74 genes.
Think that's exciting? Well, it is, but it's not nearly as exciting as what happened to the seniors who did the interval training: nearly 400 genes showed higher activity, compared with 33 genes in the weight-lifting group and a sad 19 genes in the people who just did the moderate exercise. The oldsters who did the bursts of exercise had healthier mitochondria, too.
What do we take away from this study? That you're never too old to benefit from exercise, for one thing. And for another, just because you're older doesn't mean you are past the point of vigorous exercise – especially if it's just for a few minutes at a time.
If you aren't already exercising, you should talk to your doctor to make sure it's okay. Then, if you're cleared for takeoff, don't be like that guy at the gym who's reading a book or watching the TV on the wall and cycling about one mile a minute, pedaling so slowly that if he were on a regular bike, he would fall over because he'd have no momentum. That barely even counts, and I see people like this at the gym all the time. They have no problem carrying on a full conversation, either; they certainly aren't short of breath.
Now, how can you apply this to your own life? If you ride a bike or use a treadmill, the timer is your friend. You don't have to program anything; you can just increase the speed to a comfortable running level, and lower it to a brisk walking level. Do it for one minute. If you can't do it for a minute, start with 30 seconds of running or pedaling harder, then work your way up. My favorite thing to do on the treadmill is walk at a brisk pace for a minute and a half, then run for a minute, then walk for a minute and a half, then run for a minute, etc., for 20 minutes. When I started, my speeds for walking and running were pretty pokey. Then one day, I was running at my customary pace and I thought, "Hmm. I can go faster," so I did. I was walking at my customary pace, and I thought, "I can go faster," so I did. You will be amazed at how much better you get over time.
This is similar to the kind of exercise our ancient ancestors got. I'm not talking about grandpa or even great-grandpa, but way back to the hunter-gatherer days. They didn't go out jogging for the heck of it, and they certainly didn't spin or do Zumba – but what they did do was put on bursts of speed when they had to, so they could bring down the animal they were hunting. Thus, I think that at some level, we are hard-wired to do this. Try it. Start small – just a few minutes total, at first – and see how you do.
This brings us to the next study, published in the Journal of the American Heart Association.
Scientists from the National Cancer Institute and Duke University looked at records of nearly 5,000 people over age 40 from the National Health and Nutrition Examination Survey from 2003-2006, and followed them for more than six years; during that period, there were 700 deaths. Then they looked at the amount of time those people who died had spent in moderate-to-vigorous physical activity (MVPA).
They found that all MVPA counted: even if it was just a few minutes here and there. It all went toward the daily total.
This is huge, because it goes against all the guilt-inducing exercise recommendations we have been treated to for decades. The conventional medical wisdom has been that exercise only counts if it's sustained – for 20 or 30 minutes, or more. And the worst result of this is that many people have thought, "Well, I don't have much time today, so I'll just have to try to get in a good workout tomorrow," or the next day, or next week.
Au contraire, say the results of this study: All exercise contributes to helping you not die. "For about 30 years, guidelines have suggested that moderate-to-vigorous activity could provide health benefits," said the study's senior author, William E. Kraus, M.D., of Duke University School of Medicine," but only if you sustained the activity for 10 minutes or more. That flies in the face of public health recommendations, like taking the stairs instead of the elevator, and parking farther from your destination. Those don't take 10 minutes, so why were they recommended?"
Why, indeed? Because every little bit helps. In this study, Kraus and colleagues at the National Cancer Institute found that the length of each period of exercise was not related to the overall benefit of living longer. Five minutes of jogging counts. Five minutes of riding an exercise bike counts.  Or five minutes of swimming a couple laps, or whatever.
The participants in the survey wore an accelerometer (similar to a Fitbit or the activity tracker on a smart phone) for up to a week. Looking at the data, the researchers looked at the people in two groups: those who had bouts of MVPA for about five minutes at a time, and those who exercised for longer than 10 minutes at a time.
People who got about an hour a day of MVPA – not an hour at a time, mind you, but an hour of little bits of exercise here and there, all added up – were half as likely to die. Those who got 100 minutes of exercise a day cut their risk of dying even more, by about 75 percent. Again, it was the total time they spent moving, not how long at a time they exercised, that mattered.
In this study, there was no distinction between intentional exercise and just plain old physical activity, like walking up a flight of stairs, or vacuuming the floor, or running to catch a bus.
"Despite the historical notion that physical activity needs to be performed for a minimum duration to elicit meaningful health benefits," Kraus and colleagues reported, "we provide novel evidence that sporadic and bouted MVPA are similarly associated with substantially reduced mortality."
In other words, it's all good.
In addition to the book, I have written about this story and much more about prostate cancer on the Prostate Cancer Foundation's website, pcf.org. The stories I've written are under the categories, "Understanding Prostate Cancer," and "For Patients."  As Patrick Walsh and I have said for years in our books, Knowledge is power: Saving your life may start with you going to the doctor, and knowing the right questions to ask. I hope all men will put prostate cancer on their radar. Get a baseline PSA blood test in your early 40s, and if you are of African descent, or if cancer and/or prostate cancer runs in your family, you need to be screened regularly for the disease. Many doctors don't do this, so it's up to you to ask for it.
 © Janet Farrar Worthington
https://vitaljake.com/wp-content/uploads/2018/05/Exercise-bike-guy-for-VJ-e1525910466378.jpg
200
300
Janet
https://vitaljake.com/wp-content/uploads/2017/05/vital-jake-logo3-300x146.png
Janet
2018-05-09 17:04:26
2020-12-22 16:27:58
Little Bursts of Exercise, Big Rewards