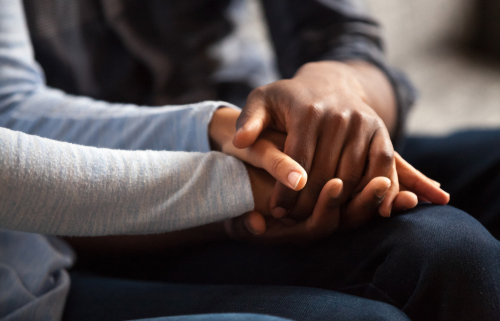 They lost each other, and found each other again.  They're in this for the long haul.  No way is prostate cancer going to change that.
One of the best things about writing for the Prostate Cancer Foundation is the opportunity to meet amazing, unforgettable people.  There are two exceptional people in this story: one is Milton, who is fighting prostate cancer.  The other is Shawni, who is not only his wife:  she will tell you that she is his "battle mate."  Previously, I said that every patient needs a treatment warrior – an advocate.  Milton has one of the strongest treatment warriors ever.  He is a mighty warrior, too.  I was privileged to interview them both.
Milton and Shawni Wilborn met in high school more than 30 years ago, but they weren't high school sweethearts – although, they found out later, they both wanted to be.   "She was seeing someone else," says Milton.  "I'd always try to talk to her; she would just giggle.  She wouldn't talk to me – just giggle, giggle.  Sophomore year, junior year.  Senior year was the first time I got her in a conversation.  Before I left to go to the Army, I wrote her a letter and told her how much I liked her."  In the letter, Milton invited her to a party, and said he hoped she would come.
Shawni never got the letter.  "Her dad intercepted the mail."  Then, one day while she was doing laundry, she found it.  "She cried.  She was so mad because, unbeknownst to me, she really liked me – but was just scared to tell me."  They each moved on.  But years later, single again, Shawni would tell her daughter, "I met a guy in high school, and who knows, maybe it could have worked out."
Meanwhile, Milton got married and had two kids, a daughter and son.  "I went to my 10-year reunion.  I'm married," and when he saw Shawni, "she had this look on her face.  I was like, 'Oh, wow, you shoulda said something.'"  At the 20-year reunion, Milton was not married any more, but Shawni didn't come.  However, she heard that he had been there, alone.  They found each other on Facebook.  She was still in their hometown of Pomona, California, and Milton was in Virginia.  They started a long-distance relationship.  "That's how we rekindled, how we came to be now."
Shawni moved to Virginia to be with Milton in the Spring of 2015.
Unfortunately, "that's when my prostate issues started.  Maybe they were already going on, but I didn't know."
The first time he noticed something was not right, Milton was at the gym, working out.  "I always worked out, always exercised, always kept myself in shape."  He did a "boxer's workout," with weights, calisthenics, jump rope, and the elliptical.  One day, he thought, "Man, I'm picking up weight!  So I stopped doing the elliptical and started jogging on the treadmill.  Shawni was getting ready to move from California, and I'm hitting the gym extra hard," to look his best for her.  His left thigh started hurting, and the pain persisted.  He started taking Motrin, although at the time, he thought, "I'm not going to be taking no pills every day!"
The Motrin helped, but the pain from his thigh moved to his hip.  Milton powered through, at the gym and at his two jobs: at the barber shop and at the garage door company he owns.  He did activities with his son, who was in high school, and his daughter, who was in middle school.  The lower left side of his back started hurting, too.  In October 2015, Milton, who is a Mason, went to a Masonic convention in Hampton, Va.  He was feeling sick, so he took some cold medicine.  "The next morning, I couldn't go to the bathroom.  I couldn't urinate.  I was in so much pain."  He went to the VA hospital in Hampton.  "They gave me a catheter.  The doctor comes back and says, 'You must have taken a lot of cold medicine.  You know, if you have prostate issues, you have to be careful with this medicine."  But Milton didn't have prostate issues; he was way too young.
Milton went home and had the catheter removed in Fort Belvoir, Va.  The pain persisted, and he escalated to using a heating pad and taking Motrin.
Soon afterward, he started having trouble with frequent urination – needing to go every five or 10 minutes.  He went back to the hospital, where they checked him for diabetes.  Some of the symptoms sounded like diabetes – frequent urination, weight gain, lower back pain.  "They gave me some medication for the pain, and pills for the urination."
A few weeks later, the pain in his back was no better.  "It was just killing me."  At the hospital, they recommended that he try ice instead of heat for the inflammation in his back.  "They gave me a couple ice packs, and sure enough, after a while, the ice took the pain away.  I left there, kept working, then I'd go home and put an ice pack on."  Shawni was working nights at the time.  "That's what we did."  October, November, December.  Milton was getting fed up; the pain wasn't getting better.
"I told you something was wrong."
In January, he decided to get a physical.  Monday, January 11, 2016, his 45th birthday, he went to the urology clinic at Fort Belvoir.  The nurse said, "Have you ever had your PSA checked?  You're an African American male.  You need to know what your PSA is."  He had his blood drawn.   They told him his labs were normal.
Three days later, on Thursday, they called him back.  "They said my PSA was extremely high, in the 200s, and the pain in my back was due to my prostate."  He went back to the hospital.   A urologist at the clinic said, "'I'm sorry to tell you, you have prostate cancer.  There's nothing more we can do for you here.  Do you have any questions?'"
Oh yes, Milton had questions.  "Last week, they said everything was fine.  This week they're telling me I've got cancer.  No way!  Bull crap!"  Shawni was crying.  "I said, 'I told you a long time ago, something was wrong!'"  The urologist said, "'I'm so sorry, there's nothing more we can do.'  I was cursing, being upset."  The urologist told Milton that he could have his testicles surgically removed to stop him from producing testosterone.  "There's nothing more we can do for you here.  Go to oncology.  Maybe they can do something for you.  I'm so sorry."
"That was it," Milton says.  "Not sympathy, and no compassion.  Just 'we can't do anything else for you.'"  He went to oncology.  "Sign in, wait, get triaged, take vital signs. The pain's a 10, kidney pain, back pain.  The doctor comes in and says, 'Your prostate cancer has already spread outside the prostate.  We can't cure it.  However, we can get control over it by giving you hormonal therapy.  We can give you a shot in the stomach, every three months.  That will help stop you from producing testosterone."  They gave him some steroids for 14 days, and told him to come back after that to start chemotherapy, with taxotere.  "So that's what we did."  They gave him morphine for the pain.
In the two weeks since his first PSA test, his PSA had more than doubled, to 548.
"We prayed, and cried.  I called my mom.  My dad wasn't doing well, and my mom was taking care of him." Shawni called her parents.  They told their four kids, who took the news hard.  "Our two oldest girls are living in Texas, our son had just graduated high school and was set to go off in the military.  Our youngest daughter was getting ready to be a freshman in high school.  It was a really tough time."  Milton started chemo, and he kept on working.  He had a Picc line placed in his bicep, so he wouldn't damage his veins from the chemo.
The chemo made him sick.  It lowered his white blood cell count, made him throw up.  He lost his hair – on his head, his body, his eyebrows.  But he stayed focused on getting better.
"Cancer is by no means going to tear us down." 
Milton talked to his pastor, and they prayed for him to stay strong.  He also focused on gratitude.  "You come across people who are just taking their life for granted, complaining about some of the craziest things.  You just don't know.  You don't know how blessed you are."
He and Shawni got married in 2017.  "She took care of me.  She's been by my side the entire way.  She's been my angel, my nurse, my caregiver, by my side for it all.  She's everything to me.
"I always try to let her know nothing can stop us.  We can't let lack of communication or something else bother us, because we're bigger than that.  We've been through tougher days and back.  We just push on.  We fight.  We fight and fight and fight.  Cancer is by no means going to tear us down." 
Shawni could have bailed out, Milton says.  But she didn't, and she wouldn't.  "I wouldn't fault her for it," says Milton.  "I've caught her crying.  I say, 'What's wrong?' 'Oh, nothing.'  'Yeah, right.'"
Sometimes, he says, life just gives you a journey and a path to walk on.  "This is my journey.  This is my path.  We're going to keep on walking it, keep on fighting.
It'll be all right."
They both like Steven Krasnow, M.D., Milton's oncologist at the Washington, D.C., VA Medical Center, very much.  "He's just been awesome.  I've got the best doctor in the hospital looking after me.  The nurses who take care of me, they're awesome.  They care."
Milton and Shawni try to give back, to help other cancer patients they see at the VA.  "I'm 48," says Milton.  "I don't look 48; I look probably 40.  Shawni's 47, and she looks 30-something.  We look pretty good for our age.  People are always surprised to see us in oncology."  Shawni says, "People will ask, 'Oh, are you here with your grandfather?' I say I'm here with my husband."
"Treat him as if he's going to live forever."
Shawni and Milton didn't know about the levels of prostate cancer until the physician's assistant (PA) happened to close the door in the office, and they saw a poster of prostate cancer and all its stages.  "We were both looking at it, reading what each stage is," says Shawni.  When the PA came back in, they asked about Milton.  "'He's stage 4.'  It was like the air got knocked out of us.  People hear stage 4, and automatically think that person is terminal.
"From that point, we told Dr. Krasnow, we don't want to know the time frame.  We just want you to treat him as if he's going to live forever.  How long does he have?  He has forever.  Once people start hearing the diagnosis, it's like they start living by a calendar.  Life slowly starts to deteriorate.  We never discuss that with anyone.  They all know not to talk about time frames with us.  We've seen people come and go in the office.  He'll talk to the cancer patients when they're in chemo.  I give the caregivers my story.  We try to be positive, to be uplifting as much as we can."
Says Milton:  "God put me in a position to be able to tell my story."  He is determined to remain thankful.  "I have a song that I play, when my alarm for medication goes off.  It's the Clark Sisters, 'I'm Looking for a Miracle.'"  The lyrics include these words:  "I expect the impossible.  I feel the intangible and I see the invisible.  The sky is the limit."
"She wiped my tears away."
Says Milton:  "That song is just so beautiful to me.  It gives me a reason to keep pushing."  It's on his playlist, on repeat, when he's getting the chemo.  "A year ago, I did a 5K walk and run down in Virginia Beach for Prostate Cancer awareness.  I was hurting.  I put that song on."  His son and Shawni were on the sidelines, cheering him on.  "I just kept on pushing to the finish line.  One hour, 14 minutes."
In September 2019, Milton was in the hospital for back pain.  It was Sunday.  He was on his iPad, getting ready for the live-stream service of his church in Dumfries, Virginia – his "bedside Baptist," he jokes.  "I just heard this crunch, just from the base of my neck up into my head.  I'm just holding my neck, like you're doing sit-ups."  He wrapped a rolled-up towel around his neck, "made my own neck brace."  A CT scan later revealed a fractured C2 vertebrae.  "The cancer is in my neck, back, shoulders, hips, thighs, and my ribs."
Milton says he got mad.  This happened while he was just sitting there!  "I didn't question God, anything like that.  I was just mad."  Shawni was crying, but she told him, "It's going to be okay.  She saved her tears for later, and she wiped my tears away.  For four years, we've been fighting this."
Milton hopes to take part in a clinical trial.  He went through a painful bone marrow biopsy to be eligible for a radionuclide trial, but "they only needed 800 people," and 1,000 applied.  Milton didn't get in.   He is being treated with radium-223, which treats the cancer in his bones.  "Everywhere the cancer is or has been, it causes so much pain.  But I can't complain too much.  I keep pushing through."
Their faith – in God, and in each other – keeps them going.  "It's crazy to say this," says Milton, "but for things to be so bad, it also turned out to be so good, because there are so many things that I guess people take for granted.  So many things I've learned about myself, so many things I've learned about my faith in God."  He refers to the parable of the mustard seed in the Bible.   "A mustard seed is pretty small, not much bigger than a grain of salt.  Just believe this much, God is saying.
"We stop and remind ourselves where we're at, and what we've been through," how glad they are that they found each other again.  "Sometimes we forget how lucky we are, and we remind each other how blessed we are, how grateful we are that God has given us this challenge.  He says all you've got to do is just believe.  Live right.  Treat people right.  I just need you to take care of these things right here, and I'll take care of the rest.  Everything's going to be okay.  We just keep pushing."
Note: Less than a year after I wrote this story, Milton entered hospice care.  Shawni said at the time, "I feel like my heart is slowly being torn to pieces."  A few weeks later, he died of prostate cancer, and those of us at PCF who had been fortunate enough to get to know them, and who had been praying for them and trying so hard to find a clinical trial or something that might help Milton felt torn to pieces, too.
In addition to the book, I have written about this story and much more about prostate cancer on the Prostate Cancer Foundation's website, pcf.org. The stories I've written are under the categories, "Understanding Prostate Cancer," and "For Patients."  As Patrick Walsh and I have said for years in our books, Knowledge is power: Saving your life may start with you going to the doctor, and knowing the right questions to ask. I hope all men will put prostate cancer on their radar. Get a baseline PSA blood test in your early 40s, and if you are of African descent, or if cancer and/or prostate cancer runs in your family, you need to be screened regularly for the disease. Many doctors don't do this, so it's up to you to ask for it.
©Janet Farrar Worthington
https://vitaljake.com/wp-content/uploads/2020/01/Milton-Wilborn-picture-for-VJ-e1579883497842.jpg
200
300
Janet
https://vitaljake.com/wp-content/uploads/2017/05/vital-jake-logo3-300x146.png
Janet
2020-01-24 09:32:43
2020-11-17 16:59:10
Treatment Warriors