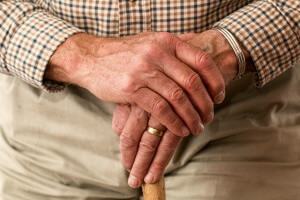 Quality of life is the key:  our goal shouldn't be just to live to a ripe old age.  No one wants to be old and decrepit (or decrepit at any age, frankly).  But old and healthy – now that's an exciting goal.
Jeremy Walston, M.D., a gerontologist at Johns Hopkins, co-directs the Biology of Frailty Program and is co-principal investigator of the Older American Independence Center.  He has spent his career studying how we age.  In addition to many studies on specific aspects of aging, he has looked at what healthy older people have in common — at what they eat and don't eat, and how they live – and has come up with some practical tips.  I recently interviewed Walston for Breakthrough, the magazine for the Johns Hopkins Center for Innovative Medicine.
The secrets of healthy aging, he has found, aren't so secret after all.  The best "fountain of youth" we have right now are some common-sense building blocks that can help everyone, at every age, live better.
Nutrition:

 

Make Every Bite Count
If you do it right, just about everything you eat can help your body.  This doesn't mean you have to have an ascetic diet of nuts and berries, or be a food martyr who never eats birthday cake, macaroni and cheese, or a BLT with chips and a pickle.  But comfort foods and flat-out junk should be the exception, not the rule, and you should make most of your dietary choices good ones. 
Now, what does this mean?
Eat Fresh Fruits and Veggies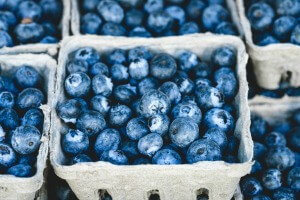 "Fresh fruits and vegetables are very important," says Walston, "particularly ones that are rich in potassium."  High-potassium fruits and veggies – including bananas, oranges, strawberries; dried fruits, like raisins, apricots, and prunes; spinach, tomatoes, avocados, beans and peas, and potatoes – are the best way for you to get potassium.  Potassium is also found in dairy products, in whole grains, meat, and fish.
Here's some of what potassium-rich foods can do for you:  Blood pressure:  When you get your blood pressure tested, you're told it's one number over another one.  That number on the top is systolic blood pressure, and potassium can lower it by several points.  Heart: Potassium helps your heart beat, which happens about 100,000 times a day.  It can help regulate the heart rhythm, too.  Cholesterol:  Potassium, by itself, is not a designated cholesterol-lowering agent; however, if you are eating foods rich in potassium, this means you're not loading up on saturated fat.  Just eating this good food instead of junk can lower your cholesterol.
Fresh fruits and vegetables are also are anti-inflammatory.  This is very important, because inflammation has been linked to many diseases, including several forms of cancer.  When you eat these healthy foods, don't blow it, Walston adds:  "Don't add salt and don't overcook them."
Get More Protein
Protein is increasingly important; we need it more now than we did when we were younger.  "Protein helps muscles function better, and it is also important to help maintain muscle mass."  True, you can get protein from a cheesesteak sandwich, but it's better to "choose high-quality protein that is low in fat," says Walston.  Salmon, for example, is a great source of protein; so are chicken, lean beef and pork, eggs, beans, soy, and low-fat dairy products like yogurt.   "We need about 30 grams of protein at a sitting to stimulate muscle growth optimally," and the best time to take in protein is after exercise; this helps the muscles recover and grow.  "You can also get it from a protein shake or energy bar."
Get Plenty of Vitamin D
Vitamin D helps keep your bones strong.  It also helps keep your muscles, heart, brain and immune system healthy, and can help prevent cancer.  Having low levels of Vitamin D is bad: A study published in the Archives of Internal Medicine found that people with the lowest levels of Vitamin D had more then twice the risk of dying from heart disease and other causes, compared to those with the highest levels.  The researchers listed "decreased outdoor activity" as one reason that people can become deficient in Vitamin D.  You can get it in milk, oily fish, mushrooms, eggs, and meat.  You can also take a supplement.  The National Institutes of Health recommends 600 IU (international units) of Vitamin D a day if you're under 70, and 800 IU a day if you're over 70.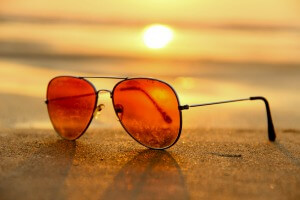 And get some sun:  "Your body needs direct sunlight exposure to activate the vitamin D."  A pretty amazing reaction happens when the sun hits your skin: the UV-B rays activates vitamin D into a form that your body can use best.  You don't need to bask in the sun for hours; just a few minutes – 20 or so – a couple of times a week  is plenty of time to gain this benefit.
Get your shots
Lower your risk of getting the flu, or pneumonia, or shingles by getting a shot.  Many pharmacies, grocery stores, and big-box stores like Walmart and Target offer these shots at a low cost.  Take them up on it.  The risks of getting one of these illnesses far outweigh the inconvenience and minor expense of a vaccine.   
Coming up next:  Part 2:  Keep Moving, Don't Fall, and Keep Your Mind Active.
©Janet Farrar Worthington
Regular disclaimer: This is a blog. It is not an encyclopedia article or a research paper published in a peer-reviewed journal. If a relevant publication is involved in the story, I mention it. Otherwise, don't look for a lot of citations, especially if I'm quoting from a medical professional.
https://vitaljake.com/wp-content/uploads/2016/06/300_200_hands_walking_stick.jpg
200
300
Janet
https://vitaljake.com/wp-content/uploads/2017/05/vital-jake-logo3-300x146.png
Janet
2016-06-15 10:11:28
2018-09-30 16:39:55
How to Age Well: Part 1